FM SEAT 1
Height Adjustable Stool with Footrest
Ergonomically shaped seat, adjustable height and tilt angle
Footrest with continuously variable height adjustment
Vari®-Foot technology for leveling uneven floors
Optionally available backrest GFMBR1
Ergonomically shaped seat, adjustable height and tilt angle
Footrest with continuously variable height adjustment
Vari®-Foot technology for leveling uneven floors
Optionally available backrest GFMBR1
Description
Long rehearsals or gigs usually mean hours of standing for musicians - whether on the microphone, guitar or other instruments. A flexible, comfortable standing aid ensures increased comfort, preventing early fatigue and relieving back strain.
The standing aid FM Seat 1 by Gravity is suitable for universal use on stage, in the rehearsal room or at home while practising; for guitarists, bass players, pianists, string players, wind players and singers. It boasts several of Gravity's special hallmark features.
Let's take a look at the seat first: It has an attractive leatherette covering and can be tilted forwards or backwards at continuously variable angles.
Let's move onto the adjustment options offered by this standing aid: The frame is made of solid steel and with a generous height adjustment range of 67 cm to 97 cm, a comfortable seating position can be achieved for any body height. The continuously height-adjustable footrest additionally reliefs the back while also allowing one or both legs to be rested.
Another extremely practical aspect is the integrated levelling foot. The tubular base construction is fitted with our KS Vari-Foot® 1. This ensures a stable and secure footing even on uneven surfaces by means of a simple screw mechanism.
The FM Seat®1 is quick to assemble by means of a folding mechanism and can be folded flat for transport - so it fits into any narrow gap when loading.
And for those who are looking for even greater comfort, a practical Gravity GFMBR1 backrest is optionally available that likewise features continuously variable height adjustment.
In short, our FM SEAT 1 is the ideal standing aid for a wide range of applications!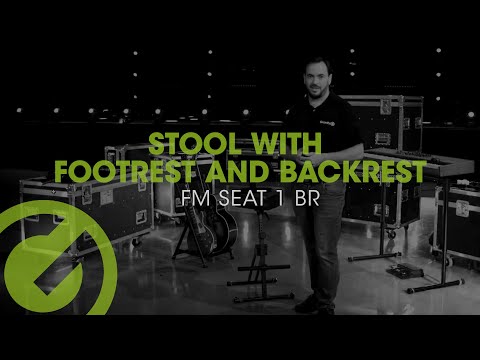 Specifications
| | |
| --- | --- |
| Type | Stool |
| Stand material | Steel |
| Stand surface | Powder-coated |
| Seat material | Imitation leather |
| Height adjustment | Locking clamp screw |
| Min. height | 670 mm |
| Max. height | 970 mm |
| Max. load capacity | 100 kg |
| Seat colour | Black |
| Weight | 6,903 kg |