GS LS A 01 B
Guitar GLOW STAND®, A-Frame
Guitar stand with ambient lighting
Color and brightness continuously adjustable
Additional front spotlight
Memory function for colour and brightness
Fits bass and electric guitars
Patent pending illuminated guitar stand
Solid and durable construction
Powersupply included (EU, US, UK)
Guitar stand with ambient lighting
Color and brightness continuously adjustable
Additional front spotlight
Memory function for colour and brightness
Fits bass and electric guitars
Patent pending illuminated guitar stand
Solid and durable construction
Powersupply included (EU, US, UK)
Description
If you're looking for a way to make your guitar collection appear more inspiring, then let the Gravity GLOW STAND® light the way - because it gives your creative space an incredible dose of atmosphere and ambience, setting the perfect mood for you to make your music.
The Gravity GS LS A 01 B Guitar GLOW STAND® is an illuminated guitar stand that gives your electric guitar or bass maximum support and at the same time highlights it with colour.
It holds your guitar or bass securely and safely, and its soft support surfaces ensure that your musical instrument remains in perfect condition. In addition, the GLOW STAND® has a foam insert at the bottom that can be removed to provide more stable support for electric guitars and basses with strap pins and/or strap locks.
But what really sets the Guitar GLOW STAND® apart is its magnificent integrated lighting system. Each stand features adjustable ambient LED lighting that allows you to set the perfect mood with your choice of colour and brightness. Whether you're at home, in the studio, or on stage, you can create a captivating ambiance that highlights the beauty of your instrument. Simply cycle through the colours by touching the unique responsive panels at the front of the stand base. And best of all, the GLOW STAND® remembers your chosen colour settings each time you switch it off.
The Guitar GLOW STAND® also features an adjustable front spotlight, which can be tilted to accentuate the intricate details of your guitar, elevating it to a true work of art!
Featuring a wide range of colours, the Guitar GLOW STAND® is sure to inspire you every time you enter your music making space.
*Not suitable for long-term use with guitars that have a nitro lacquer finish.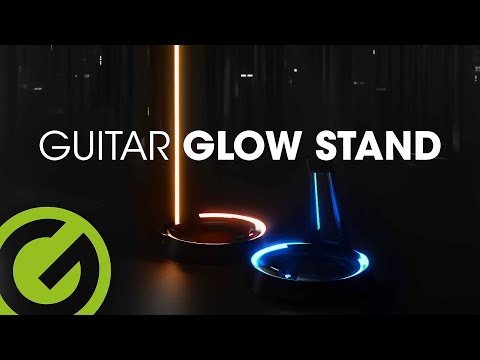 Specifications
Product type
Stands and Tripods
Material
ABS plastic, Metal
suitable for
Bass, electric guitar
Switches
colour selector, Touch senstive button
Switch levels
Colour change, Dimming, Off, On
Color temperature
6000 - 6500 K
Colour rendering index (CRI)
75