FT 01 LT T B
Flexible Laptop tray for DJ Desk
Perfect addition to the Gravity DJ Desk (FT 01)
Suitable for laptops, tablets, smaller mixer and effects
Perfect addition to the Gravity DJ Desk (FT 01)
Suitable for laptops, tablets, smaller mixer and effects
Description
The practical laptop tray with adjustable holding pins extends the functionality of your Gravity® DJ desk (FT 01) and ensures the best view of your laptop.
The laptop tray FT 01 LT T B is continuously height-adjustable, rotatable by 360° and tiltable by 15°.
With the adjustable holding pins, the tray holds your laptop, tablet, effects or mixing console securely in place, even when tilted, and thanks to the sophisticated rail system on the DJ desk (FT 01), the laptop tray can also be moved horizontally.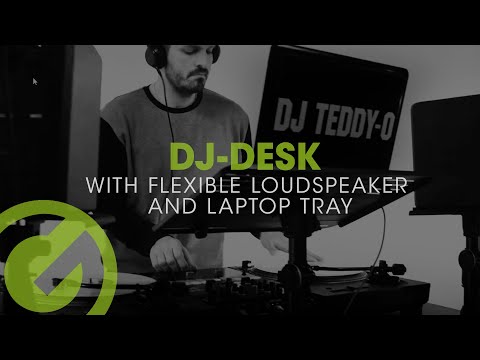 Specifications
| | |
| --- | --- |
| Product type | Stands and Tripods |
| Type | Laptop Stand |
| Material | Steel |
| Color | Black |
| Width adjusting jaws | 40 mm |
| Width spacing between adjusting pins min. | 120 mm |
| Width spacing between adjusting pins max. | 425 mm |
| Height spacing between adjusting pins to adjusting jaws min. | 117 mm |
| Height spacing between adjusting pins to adjusting jaws max | 250 mm |
| Width spacing between adjusting jaws min. | 130 mm |
| Width spacing between adjusting jaws max. | 360 mm |
| Support width | 480 mm |
| Tray height | 330 mm |
| Interchangeable rings | 5 x 15 mm, 1 x 25 mm, 1 x 30 mm |
| Black ring pack included | Yes |
| Accessories (included) | 2 x Adjusting jaws, 2 x Adjusting pins, 4 x Locking screws |
| Weight | 2,5 kg |