SA BELT 1 B SET 1
4 Retractable Crowd Barrier Cassettes for Stand Mounting incl. Bag
Mountable on any stand with 3/8" 5/8" or M10 thread
Self tightening barrier belt
Three-sided belt clip for combination with any number of crowd barrier cassettes
Locking function when attached to belt clip
Male adapter to 3/8" and M10 included
Set consists of: 4 cassettes; 4 x 3/8" adapters; 4 x M10 adapters; bag
Mountable on any stand with 3/8" 5/8" or M10 thread
Self tightening barrier belt
Three-sided belt clip for combination with any number of crowd barrier cassettes
Locking function when attached to belt clip
Male adapter to 3/8" and M10 included
Set consists of: 4 cassettes; 4 x 3/8" adapters; 4 x M10 adapters; bag
Description
Whether you're an event technician, small event organiser or retailer, the SA BELT 1 B crowd barrier cassette for stand mounting offers you absolute flexibility for barriered zones, regulated visitor flow, and highlighting of walkways.
The Gravity® SA BELT 1 B crowd barrier cassette can be extended up to two meters and is self-tensioning. For the required hold of the belt, the retractable belt system has a useful locking function, whereby the belt is solidly held in place.
Any number of barrier cassettes can be combined with each other via the typical three strap clips. With the SA BELT 1 B, there is no need to buy stands twice and fill up your storage space unnecessarily, as a 5/8" thread is integrated in the cassette itself, both at the top and bottom. Simply screw them onto any microphone or speaker stand with 3/8", 5/8" or M10 threads. And to make sure you always have the right adapter at hand, the necessary adapters are included with this very cleverly conceived barrier belt system.
With the SA BELT 1 B SET 1, Gravity® offers you a versatile system to signalise short and long walkways, for entrance control, stage barriers or trade fairs. You will be well prepared for any situation with this practical set of four barrier belt cassettes, together with accessories, which are all kept organised in a transport and storage bag.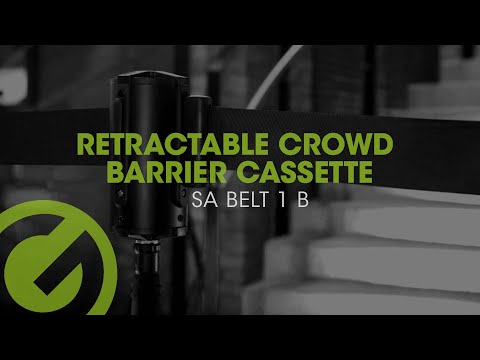 Specifications
| | |
| --- | --- |
| Product type | Stands and Tripod Accessories |
| Type | Locking belt cassette |
| Material Cassette | Plastic, Steel |
| Material of transport bag | Nylon |
| Color | Black |
| Strap material | Nylon |
| Belt length max. | 1940 mm |
| Threaded connector | 2 x 5/8" female |
| Accessories (included) | 4x adapter 5/8" male to 3/8" male, 4x adapter 5/8" male to M10 |
| Dimensions cassette (L x H x W) | 100 x 133 x 80 mm |
| Weight per cassette | 0.45 kg |
| Weight of bag | 0.176 kg |
| Weight | 2,2 kg |